Attic Insulation will save you money
Our contractors are licensed and bonded to work in your home or building to properly install your insulation. Proper installation is key to your insulation being as cost effective and efficient as possible. It doesn't matter what kind of insulation and R -value a company uses, if it isn't properly installed, then it will not do the job it is intended to do and you will waste money. Hiring a qualified, professional company with many years of experience insulating homes and buildings in Kansas City ensures that the money you invest is well spent.
We have been installing insulation in and around Kansas City since 1986. The recession a few years ago was difficult for many small businesses. Many of insulation companies that were in business then are not here now. We're here because of our reputation and our commitment to installing insulation professionally and competently. We plan to stay here. If your not sure if you need to add more insulation or if adding more will be cost effective for you, call us. We can measure and evaluate your attic and show you what a difference adding more effective insulation can do to lower your energy costs.
Thinking about trying to save some money and installing the insulation yourself?
It would seem that adding your own attic insulation would save you money, but it doesn't! When you purchase your own insulation from a big box store it will cost you more to install it yourself than if we installed it. Have the professionals at Murray to install it for you! Call us for an estimate and you'll discover this is true!
Whether you choose foam, sprayed fiberglass or rolled batt  or picture framed insulation, don't just let anybody install insulation in your home. Let our family owned business do the job in your home. We do not subcontract our work out. We install it ourselves, and because of that, you pay less. If you need someone to insulate your home, let us handle the job.
We offer our expert advise on the right type of insulation for your business or residential needs. We work with many of the new construction home builders to ensure that you home is energy efficient when you get your new keys!
Professional and Trained Contractors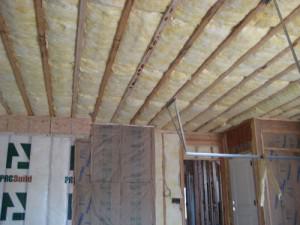 Our contractors are trained and all applications are inspected. Ninety percent of construction defects are caused by improper training and lack of supervision.  If the installation is done right you will get the highest efficiency possible from the insulation product you choose for your home or building.
At Murray, we make sure our  installers are properly trained, and the application is expertly applied in every possible cavity in the attic, basement or wall. When the installation is complete, Murray inspects the end result.
We specialize in adding more insulation to an existing home, removing and replace existing insulation  or insulating a new home for a building contractor or individual home owner.
Need an estimate? Contact or call the installation experts at Murray Insulation. We've been in business  in Kansas City for over 25 years! (816) 584-1651.