Replace your insulation for new codes in Kansas City
Effective October 1, 2012 Kansas City, MO and Overland Park, KS enacted new code regulations for energy efficiency standards called the Kansas City (MO) Building and Rehabilitation Code.  These new code specifications affect the R Value and application of basement insulation.
How much insulation do you need?
The North American Insulation Manufacturers Association along with the Department of Energy (DOE) states that where you live and the age of your home determines the R-Value you should be placing into your attic, walls and floors. The R-Values are also determined by the type of HVAC units your home or building has installed. A gas, oil or heat pump will require less of an R –value than an electric furnace. To determine how much insulation R-Value your home or building has go to the NAIM website and then call us at  (816) 584-1651. We can assist you with replacing and installing the right insulation in your basement, attic or walls for your energy efficiency needs and budget.
Homeowners rarely go into the attic to inspect their own insulation. When you buy a home you rarely look at the details like this. A few features we consider most important when purchasing a new home include having a large, open kitchen with marble counter tops and a master bathroom that your friends would be jealous of.  Now that you're in your home, possibly for a few years now, and paying the utility bills is a reality, an inspection of your attic insulation could pay large dividends if there is not enough insulation for your home.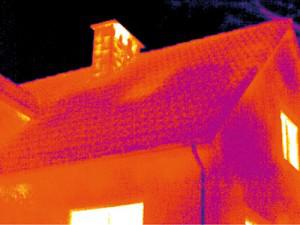 An improperly insulated attic is prone to damage.  If the attic is not ventilated or insulated properly, winters freezing temperatures meets with the air that is warmed with the days sun and water condensates on wood rafters in your attic . Murray uses infrared technology to identify areas in your home with inadequate or missing insulation. It can also identify and determine water leaks in ceilings, walls and around windows.
Is your ceiling stained and you have no idea why?
The stain may be the result of condensation dripping from your attic from an improperly ventilated and/or insulated attic. Call Murray Insulation today and we will inspect your attic for proper ventilation and insulation. We can properly vent and and remove old insulation and replace it with new insulation that can save you energy costs and the cost of having to fix and replace attic frame structures that were damaged due to condensation and wood rot.
If your insulation has been damaged due to water or fire you may want to have your insulation replaced. Replace insulation that has also been damaged by rodents. Damaged insulation no longer gives your the energy efficient advantage that it once had. Murray Insulation can replace your old and damaged insulation with new  fiberglass, foam or blown insulation.
Call us to replace your insulation and get your home up to code. We are your local, family owned, Kansas City insulation experts. (816) 584-1651!