Blown In Insulation, a cost saving choice for Kansas City homeowners!
Spray insulation is also referred to as "blown in insulation", is a process of blowing loose- fill, fiberglass insulation into the cavity of walls in a home or businesses walls, attic or basement.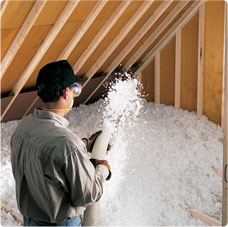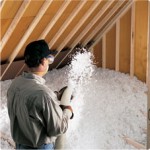 Spray insulation or blown in insulation is an excellent choice for an insulation product and application. A homeowner wanting to seal the cavity of a wall (insulate the wall) as much as possible and increase the R Value without the cost of foam insulation may choose blown in fiberglass insulation as a cost saving alternative.
The process begins with applying a moisture resistant fabric over the wall area needing insulation (attic floors do not need this fabric). Small holes are then made in the applied fabric and the fiberglass is sprayed through the holes, inside the fabric, to fill all cavities in the wall. Since 1985 Murray Insulation has been applying blown in insulation using fiberglass.
If you want the extra benefits and coverage of foam insulation and the cost savings of spray insulation, you may want to look at our very own picture framing insulation. Picture framing uses spray foam insulation as a base and then fills in the remainder of the cavity with spray fiberglass!
The Benefits of Blown in Fiberglass Insulation
Murray Insulation is providing a custom fiberglass blown in insulation application at a low cost to the consumer and the high coverage of a spray foam application.
This application provides 3 times the coverage of rolled and cut fiberglass insulation with the increase in R value associated with this application.
Spray insulation is the natural sound barrier that spray fiberglass insulation provides.
The voids and gaps that are in the walls are eliminated with blown in insulation
When deciding which type of application is the best and more cost effective for your home, contact us and we will evaluate your attic and explain all your choices to you!
Call the qualified blown in insulation experts at Murray Insulation today at (816) 584-1651!