Kansas City needs Insulation!
Insulation is an important component of your house. It keeps you warmer in the cold Kansas City winters and cooler in the summers. It's is found in your attic, the walls of your home and your basement. Insulation is a good economic investment and is not very expensive considering the money you save every month in your heating and cooling bills. Homes in Kansas City should have at least 15″ of attic insulation and a good ventilation system to encourage air flow and avoid moisture which can lead to mold.
How does insulation work?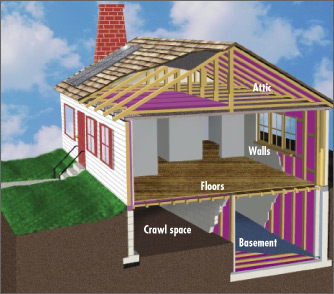 If you live in Kansas City, chances are you live in one of the 85% of homes in the U.S. that have standard fiberglass insulation installed in your walls, attic or basement.
When assessing your insulation choices or if you are looking to replace your insulation  due to changing energy codes or mold, know that insulation is used for the following: conduction, radiation and convection.
Convection: Is the transfer of heat by air currents. An example of this is movement of air from an unconditioned area to a conditioned area or from a warmer area to a cooler area.
Radiation: In the summertime the sun heats your home. The heat then transfers to the living areas of the home.
Conduction: The levels (i.e. attic, basement, main floor) of your home have unique conduction properties. The basement and its concrete foundation walls are excellent conductors for cold weather. New homes are insulating the basement walls and local agencies have addressed this by updating the codes for new home building and insulation. Conduction is energy transferred through a solid material.
We are Insulation Experts in Kansas City
When you stand by a window, you can feel that the temperature radiating from the window will be cold in the winter and hot in the summer. Glass has little to no R value. Homeowners replacing windows today will choose double or triple pane glass to help do what insulation does for walls- keep the heat inside the home in the winter and the cool of the air conditioning inside in the summer!
When you need to schedule an estimate or evaluate your current insulation, call us. We can assess your attic and let you know how much money you may be losing due to inadequate insulation in your attic. We've seen a lot of companies come and go and we're still here! We have been providing Kansas City with quality insulation since 1986!
We install all types for residential homes, new construction or commercial buildings. There are many reliable options to choose from including: foam, fiberglass, sprayed or blown and our own "picture framing" insulation!
Contact or call the respected insulation experts at Murray at (816) 584-1651 to schedule an estimate. We serve the metro Kansas City area!