Having been in business now for over 25 years you learn more than your fair share of what kinds of insulation is best for what type of job. Thanks to the Pink Panther, homeowners know what insulation is but they may not know why having your attic, basement or walls insulated is important or what kind of application is best for them.
What does insulation do for your home?
Quality insulation saves you money on utility bills and will make your home comfortable. Insulation keeps your home warmer in the winter and cooler in the summer which makes your home more energy efficient.
3 Types of Insulation Applications
Fiberglass Insulation
Fiberglass insulation is known as the "Pink Stuff". This type of insulation comes in rolls and is cut to fit in between stud cavities in your attic or walls. Fiberglass insulation is not prone to moisture or mold. Having to replace your insulation due to mold, is usually the result of mold in the dry wall or wood around the insulation. It is a good idea to replace your insulation if mold is on the drywall or wood structures around it. Fiberglass insulation is the most cost effective insulation option. DIY project difficulty grade is C. (A is the best and F is the worst)
Foam Insulation
Spray Foam insulation is effective insulation as it is sprayed into the areas of the wall between the studs and expands to fill the cavity between the wood supports. There are 2 types of foam insulation products; closed cell and open cell. The closed cell insulation, when set, is a hardened material that remains in place and may be difficult to remove. Open cell is more sponge-like and lighter in weight and easier to remove. Closed foam insulation is the most expensive type of insulation product available. DIY project difficulty grade is (F). It is not recommended that you attempt to use spray foam insulation as a DIY project. It is a hazardous material that requires breathing devices and special handling. Only qualified, insured and bonded insulation contractors should apply Spray Foam insulation.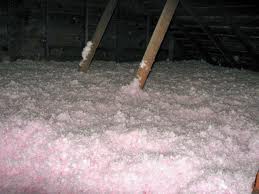 Spray Insulation
Spray Insulation using a fiberglass product is the best of both worlds in insulation. Spray Insulation combines the economy of fiberglass with the coverage of spray foam for an application that increases the insulation efficiency at a cost effective price to homeowners. Home owners enjoy the increased cost savings in energy bills and the benefits of better coverage by the spraying application. DIY project difficulty grade is a (B). This DIY project can be accomplished by anyone with a desire and the right equipment!
If you are not a DIY homeowner, contact Murray Insulation to assess your insulation efficiency needs. Many counties in Missouri and Kansas changed their codes related to insulating homes and businesses. To see if your home or business is up to code, call Murray Insulation for an inspection of your attic, walls or basement.