Last month we tackled the Spring Cleaning List for the inside of your home. Homeowners everywhere do at least some form of Spring Cleaning around the house this time of year. Spring Cleaning means that spring weather has arrived! (If you live in Arizona where they've already had 100 days in a row of 100 degree temperatures Spring temperatures mean nothing!) We can't wait to get outside here in the Midwest. Before you start enjoying your backyard and the other outdoor spaces around your home, take the time to do some Spring Cleaning outside as well! Here is an easy to follow list that is guaranteed to spruce up the outside of your home so you're ready for some serious Kansas City BBQ week-ends.
1. Check the roof and gutters. We suggest hiring a professional to check your roof. A roof inspection should be done now that the snow has thawed and before the summer rains with the tornado force winds the Midwest is famous for, hit. A roof inspection will make sure that there are no missing tiles on your roof, shingles or small leaks that may turn into larger, more expensive problems in the future. A roof inspection can also include an insulation inspection in your attic. A leaking roof will first shows signs of trouble in the attic. Clean your gutters of leaves and brush. This will ensure that rains are directed into gutter and away from the wood structures of your home that can cause wood rot.
2. Check the sidewalks and driveway. The weather in Kansas City has been dry these last 5 years. The dry soil tends to compact which leads to sinking concrete slabs in driveways and sidewalks. A sinking driveway by your foundation can cause damage to that structure costing homeowners thousands. If your driveway or sidewalk is uneven, having it raised to avoid further costly damage.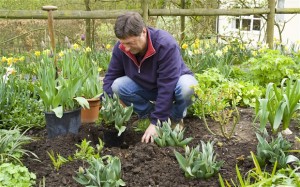 3. Weed the landscaping areas. It is time to get down on your hands and knees and get rid of those unsightly weeds. Now is also a good time to lay fresh mulch. Mulch in and around your plants and trees keeps moisture in the dirt, which saves you from having to water more during the height of the heat in the summer.
4. Trim back the branches on overgrown trees. This is also a good project for the fall. Longer, weakened branches are prime candidates for breakage with summer storms. You want the trees branches to be trimmed by a professional and not leave it to Mother Nature which may damage cars or areas of your house if large trees and their branches are nearby.
5. Paint and replace wood on your deck. This may seem like a do it yourself project, but done the wrong way, cleaning and painting your deck can lead to wood shrinkage. Your deck was an investment in your home and making sure that it looks and functions for your summer enjoyment may mean a small out of pocket expense to homeowners.
Beautiful weather is (finally) upon us. Take advantage of the fresh air and slight breeze. Take the kids outside, hand them a broom and work gloves and check things off your Spring Cleaning List for the great outdoors. Then enjoy the fruits of your labor with a backyard picnic and lemonade outside!